Creating a role-playing game requires a very large number of elements.
Even if you have a short story in mind, it can actually be a huge amount of work and you can get lost. The outline function helps you to understand the "whole" and "necessary elements" of the game you are creating.
Chapter Concept
It may be easier to understand if you think of them as chapters in a story. If we were to consider a story about a boy who obtains a legendary sword and defeats the Demon King in order to save the world, it would be easier to grasp if the game is divided into three chapters: "Beginning of Adventure," "Obtaining the Legendary Sword," and "Defeating the Demon King.
The concept of sections
A section is a collection of necessary elements in a chapter, and in RPG Maker UNITE, it might be easier to call it a collection of maps. If we consider the story "the beginning of an adventure," in which the player leaves the village, meets the king, and is given a trial, we need a "village," a "castle," and a "place of trial. These would be the sections.
Tree structure in RPG maker
In RPG maker, you can see the elements of chapters and sections in a tree structure. Under chapters, you can see that there is a field map and three sections. Under the sections, maps are registered and you can reconfirm how many maps you need to create. If there are any missing, new maps will be added, and those that are not needed will be removed. In this sample, you can see that in Chapter 1, "Beginning of Adventure," alone, we need to create one field map and seven other maps.
This gives you an idea of the size of the game you are creating and what is needed.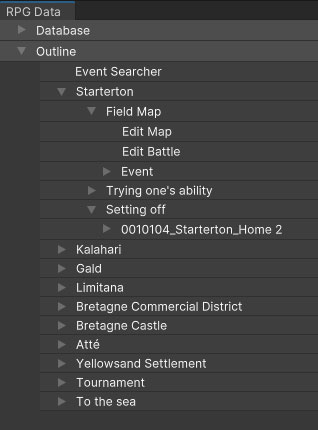 RPG Scene Preview
The RPG Scene Preview visualizes the tree structure of RPG maker in a diagram. This provides an intuitive overview of the game.
Story Line
The line connecting chapters and sections is the story line. Feel free to draw lines according to the game you are creating.
Switch Line
Switch lines can be displayed by selecting "Switch Lines" at the top of the screen. Switch lines are displayed automatically. These lines indicate which sections are connected by switches. For example, if you create an event in which you receive a request from the king at the "Unite Castle" by completing an ordeal at the "Ordeal Shrine," the switch "Ordeal Completed" will connect the "Ordeal Shrine" to the "Unite Castle.